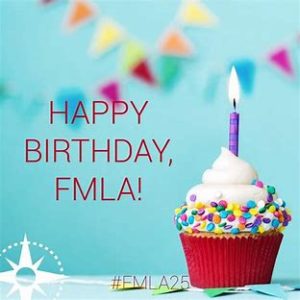 Brand-new tax credit courtesy of the Tax Cuts and Jobs Act (TCJA). Employer Credit for Paid Family and Medical Leave. But first.
REINFORCING THE BASICS.
What is the Family and Medical Leave ACT (FMLA)? The FMLA entitles qualified employees of covered employers to take up to 12 workweeks of unpaid leave in a 12-month period for qualified Family and medical reasons. The employee on leave keeps his/her group health insurance coverage and if not their original job, a completely equivalent one. Congress passed the Act because they thought it was important for working parents to participate in early childrearing and that a lack of employment polices to accommodate them should not force them into choosing between job security and parenting. And so, it was on February 5, 1993 President Bill Clinton signed his very first piece of legislation (as President).
A qualified employee is one who?
1. Works for a covered employer;
2. Has worked for that covered employer for 12 months (consecutive or not consecutive);
3. Has clocked as least 1,250 hours during the preceding 12-month period;
4. Works at a location where the employer has at least 50 employees within 75 miles; and,
5. Didn't make more than $72,000 in 2017 or 2018.
Who is a covered employer?
1. Private-sector. 50 or more employees in 20 or more workweeks in the current or preceding calendar year;
2. Public sector. All federal, state, and local agencies, regardless of the number of employees; and,
3. Public or private school. All elementary and secondary schools regardless of the number of employees.
What are the qualified Family and medical reasons?
1. Birth or adoption of a child;
2. To care for a spouse, child, or parent with a serious health condition;
3. For a serious health condition that makes the employee unable to perform the essential functions of his/her job;
4. For any qualifying emergency arising out of the fact that a spouse, child, or parent is a military member deployed to a foreign country; and,
5. A qualified employee may also take up to 26 workweeks of leave during a single 12-month period to care for a servicemember with a serious injury or illness, if the employee is the spouse, child, parent, or next of kin of the servicemember.
THE NEW EMPLOYER TAX CREDIT FOR PAID FAMILY AND MEDICAL LEAVE (FML). TCJA created a temporary general business tax credit for employers that provide paid FML. The credit is equal to a percentage of employee wages paid during their FML. Normally paid wages do not include discretionary bonuses or other than regular scheduled overtime. Big employers may qualify for the credit as well as small employers and even employers who are not even required to offer FML under federal FMLA.
How temporary is temporary? Only for calendar years 2018 and 2019.
First things first. Write and implement an FMLA paid leave policy. The policy must provide at least two weeks annually of paid FML to all qualifying full-time employees and a pro-rated paid leave for part-time (fewer than 30 hours a week) employees. The paid leave cannot be less than 50% what the employee usually makes.
What doesn't count as FML wages paid?
If an employer provides paid vacation leave, personal leave, or medical or sick leave (other than leave specifically for one or more of the purposes stated above), that paid leave is not counted as FML.
Leave paid or required by a State or local government is not counted as wages paid by the employer. Employers must be generous on their own.
What does count other than straight up wages? Wages paid under a short-term disability program.
Show me the math! The minimum percentage is 12.5%. The credit is increased by 0.25% for each percentage point by which the amount paid exceeds 50% of the employee's wages. The maximum percentage is 25%. No more than 12 weeks of FML can be used for the credit.
(Shameless Plug). We're really good at this part: "All general business credits combined, including the family medical leave credit, may not exceed the taxpayer's net income tax over the greater of the tentative minimum tax (which is zero for C corporations after 2017), or 25% of the taxpayer's net regular tax liability that exceeds $25,000 (Sec. 38(c)(1)). However, if the sum of general business credits does exceed these amounts, the excess can be carried back one year and carried forward 20 years (Secs. 39(a)(1)(A) and (B))."
Employers may claim the credit by filing Form 8994, Employer Credit for Paid Family and Medical Leave (drafted), Form 8994 and Form 3800, General Business Credit, with their tax return. If you remember from last week's blog, We Are, After All, IRS Customers, there are 450 or so forms and instructions the IRS needs to create or change resulting from the TCJA.
WHAT ELSE SHOULD I KNOW?
 ⇒ 1 in 4 women return to work less than two weeks after giving birth because the Family cannot afford to miss a paycheck.
Having a paid Family and Medical Leave policy is a great way to not only recruit and retain top talent but to also stand out in your community. We can help, #CallCarolFirst.
info@accpas.com OR 727-327-1999.
Check back here next week for a Christmas blog. And be sure to like us on FaceBook and follow us on Twitter ; for whatever it is we'll be posting.