We did get through Thanksgiving.  And now it's Christmas. This week we are not talking accounting, not tax, and not turkey.  Welcome to this week's blog:  Don't Talk Turkey, Let's Talk Trees.  White House Christmas Trees.
REINFORCING THE BASICS.
A Christmas tree in the White House has evolved over the past 100+ years from a private celebration in the Family quarters to a national celebration.
The White House Christmas Tree, also known as the Blue Room Christmas Tree, is the official indoor Christmas tree at the residence of the President of the United States, the White House.
The White House Christmas tree usually stands nearly 20 feet tall and the crystal chandelier in the Blue Room must be removed for the tree to fit the room. The Blue Room tree has been donated every year since 1966 by the National Christmas Tree Association. The tree is chosen through a contest among members of the trade group.
PRESIDENTS AND THEIR TREES
Franklin Pierce, 14th US President, decorated a tree outside on the White House lawn in 1853 for a group of Washington Sunday School children, supposedly while Christmas carolers sang "Hark, the Herald Angels Sing."
The first-ever indoor Christmas Tree was put up by Benjamin Harrison in 1889 for his grandkids. It was in the Second Floor Yellow Oval Room which in those days was the Family parlor, which today for most of us is the living room.  The tree was decorated with ornaments and wax candles; truly a fire hazard.  He even dressed up as Santa Claus and gave the first documented presidential Christmas Bonus:  turkeys and gloves to his employees.  We're thinking maybe he gave gloves because he wore gloves in public to hide what is thought to be sever eczema or maybe just because its cold in DC in December. Harrison had hoped that his example would be followed by every American Family; the example of indoor trees, not Christmas bonuses.  A couple of years later, in about 1891, the White House got electricity installed but POTUS AND FLOTUS were too afraid of the electric lights and left them to be turned on and off by the staff.
It wasn't until three years later in 1894 during the second time around of Grover Cleveland, electric lights first appeared on a White House Christmas tree.  A big guy, the second biggest president, he wasn't afraid of electric lights.  Neither was First Lady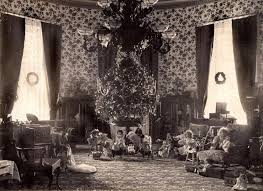 Frances Cleveland who created quite the techy tree in 1895 when she hung electric lights on the White House tree.  Heck, Grover even shot his own duck for Christmas Dinner.
President William McKinley, succumbed to protesters in 1899 urging him to drop the White House "Christmas tree habit."  He, did however, put a small one in the kitchen for the maids.
Alas, in 1902, there was no Christmas Tree because POTUS Theodore Roosevelt had not ordered one by December 23.
The following year, President Theodore Roosevelt and First Lady Edith Roosevelt went all out and hosted a "carnival" during the 1903 Christmas season for 500 children. The event included dinner, dancing, musical entertainment, souvenirs, and ice cream formed in the shape of Santa Claus. According to popular belief, President Roosevelt, an avowed conservationist, did not approve of cutting trees for Christmas decorations.   Truly a "green" Christmas.  George Washington may have chopped down a cherry tree but Archie Roosevelt, in defiance of his Dad, the 26th President of the United States of America chopped down a little tree off the White House Lawn. He decorated it; it even had electric lights and then he hid the tree in a closet in the upstairs sewing room until early Christmas morning.
In 1909 Howard Taft and his FLOTUS went away for the holiday and left the decorating to their kids who put the indoor Christmas Tree in the Blue Room instead of the Yellow Room, where its been for all but two of the last 109 years.  Come to think of it, two days after Christmas that year, and in time for New Year's Eve; Taft answered the question. "What is whiskey?" giving rise to straight and blended whiskey.
Again in 1922, there was no White House Christmas Tree.  First Lady Florence Harding was wheelchair bound from kidney failure that September.  POTUS sent 250 bucks to his mistress, who bought herself a diamond and sapphire bracelet.  He certainly wasn't a cheap guy; that is $449.40 JFK dollars, $2,388.39 Clinton dollars and in today's dollars 45 would have to drop $3,647.63 to be as thoughtful.  According to the news he drops way more than that.
In 1923, First Lady Grace Coolidge, gave the thumbs up for the District of Columbia Public Schools to put up a tree on the Ellipse in Presidents Park. This, the first National Christmas Tree was lit with a strand of 2,500 red, white, and green bulbs, by Calvin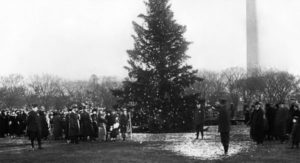 Coolidge.  There were concerts and crowds and celebrations.  This was the beginning of an American tradition now nearly a century old.
The annual tradition of decorating the indoor White House Christmas tree started in 1929 with FLOTUS Lou Henry Hoover and has been continued by First Ladies ever since.  Over the years, the White House Christmas tree has reflected the times, the tastes, and even the initiatives of the First Lady.  First Lady Jacqueline Kennedy began the tradition of Christmas Tree themes when she decorated the 1961 Christmas tree in toy trimmings from the Nutcracker Suite ballet by Tchaikovsky.  Nancy (Just Say No) Reagan had help decorating her trees from participants in a drug treatment program.  Barbara Bush, whose initiative was literacy, had a tree decorated with books.
In 2018, the White House Christmas Tree, was hijacked by internet trolls who are all about commenting on the Grand Foyer and Cross Hall, lined with 29 red trees all decorated with 14,000 red ornaments.  The choice of red is an extension of the stripes in the presidential seal designed by the Founding Fathers and symbolizing valor and bravery.
And that's a long way from a little tree in a living room in 1889 put up by a President for his grandkids.
WHAT ELSE SHOULD I KNOW?
⇒ The Clintons had the most Christmas trees; 37 in 1997.
⇒ This year's tree is lighted by 74,000 LED chips from dusk to 11pm at a cost of about $200.
⇒ Shameless Plug. We wish you a Happy Holiday season.
info@accpas.com  OR   727-327-1999.
Check back here next week when we wish you a Merry Christmas.  If there is anything you would like to know more about, leave a comment and we'll blog it.  And be sure to like us on  Facebook and follow us on Twitter; for whatever it is we'll be posting.
ANY TAX ADVICE IN THIS COMMUNICATION IS NOT INTENDED OR WRITTEN TO BE USED, AND CANNOT BE USED, BY A CLIENT OR ANY OTHER PERSON OR ENTITY FOR THE PURPOSE OF (i) AVOIDING PENALTIES THAT MAY BE IMPOSED ON ANY TAXPAYER OR (ii) PROMOTING, MARKETING OR RECOMMENDING TO ANOTHER PARTY ANY MATTERS ADDRESSED HEREIN.